16 Aug

On The Job with Chantal Namuhoza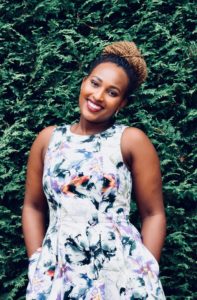 As a day center staff* at Sophia's Place, Chantal Namuhoza's focus is on making sure the women who visit are comfortable and have everything they need.
The Day Center, situated at St. Luke's Lutheran Church, is open from 8 a.m. to 3 p.m. and offers facilities and services that women experiencing homelessness need every day – showers, laundry, meals including breakfast and lunch as well as supportive services that help women get into housing.
It can be a challenging environment, but Chantal is ready for it. And there are the times that she treasures. "It's why I keep coming in every day with renewed optimism," she says.
She shares a recent incident: "Last year, a young girl came to the Day Center, searching for a place to take a shower and get a warm meal. Talking to her and learning about her situation, I encouraged her to find a job and to apply for our six-month Night Shelter Program, which she did successfully. She was smart and very goal-oriented. She found a job, took some GED classes and later also took some math classes with the goal of taking computer classes later. She worked with one of our case managers and was soon able to find housing with her help. She comes in occasionally and in fact, stopped by last week. She looked happy which makes me very happy!"
Chantal joined The Sophia Way in October last year. Having graduated with a major in Human services from the University of Maine Farmington, she decided to move across the country for a fresh start here on the Eastside. When she heard The Sophia Way was looking for staff at their Day Center, she applied and was accepted. "It was my first job. I was fresh out of college with no experience and new to the state; I wasn't sure what it would be like. But, now, I think this is the best job to truly understand what it is like working in the human service field."
Her job encompasses doing everything she can to help the ladies with what they need, but mostly it's about just being available for them to have someone to talk to, someone who will listen to them – another human being to connect with.
Most days Chantal will go home feeling like "there is more I could have done to help someone." Understand and accepting that she can't help everyone has been a big learning for her. Another learning has been the ability to make quick decisions. "It took me a while to learn that in this job I don't have time to research all the answers." The learning opportunities are something that she loves and appreciates. They are not just on-the-job but also from her co-workers and the women who visit.
While her work keeps her busy and on her toes, Chantal makes sure she makes time for self-care. She spends most of her free time at church and with friends and family. And, she always carries tea bags everywhere with her. "Tea is my little heaven; it calms me down," confesses Chantal.
*Chantal took over as Day Center Manager at Sophia's Place on August 21. Congratulations Chantal!