17 Sep

On The Job with Gretchen Philips-Bond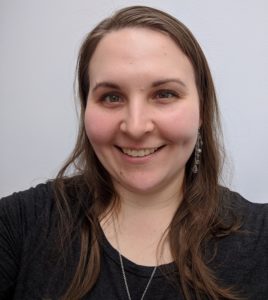 A small six-sided die is a constant presence in Gretchen's purse. It reminds her that nothing is certain and that life is full of chances. "I've learned to make the best with whatever life rolls at me," she says.
In her role as a housing case manager at The Sophia Way, Gretchen Philips-Bond has seen this many times. She is happy when a woman she is working with can overcome hurdles and find housing. Then there are the times when a lack of available resources is a huge barrier to being housed. "There are so many women who are in need and deserving of help, and often the availability of assistance comes down to timing."
Having been at the organization for nearly two years, Gretchen started at the Day Center as the Assistant Manager and a year later transitioned to her current role. Her goal is to become a counselor, and she wanted some experience in social services. What drew her to The Sophia Way was the culture of heartfelt support for the women. "Social services requires empathy to find success for each client, and empathy is a cardinal value for my own life. Everyone I work with is here because they care about what they are doing and are genuinely concerned for the well-being of women experiencing homelessness."
Her work revolves around helping the women, who are in permanent supportive housing, to maintain their housing. She works with King County Housing Authority and landlords, and supports and encourages the women as needed. "I focus on tailoring the support based on each woman's goals and needs. It requires a lot of creative thinking and advocacy, as well as luck in finding resources. I have learned so much about how to navigate the systems of housing and supportive services in my short time in this position."
She cherishes the relationship of trust that she develops with the women. "They tell me stories from their lives and experiences, and I can help them with things they might have been reluctant to ask for in the past."
Gretchen feels a deep sense of satisfaction when she is able to provide a creative suggestion or find an unexpected solution. Recently when she went with a woman to sign the lease, the woman was flustered to realize that her monthly rent was much higher than she had planned for. Gretchen took her out for coffee, talked her through the budget calculation and was able to reassure her that her income was more than sufficient to pay rent and all the bills. "She signed the lease and moved in immediately," says Gretchen. "She told me that she was so glad to have me with her, and we have since scheduled a time to make a monthly budget for her, to keep her feeling positive about her finances."
Helping women move into housing is more than just signing the lease. It requires hours of researching for resources, scheduling appointments, following up with agencies and talking to donors who wish to provide household goods and furniture. Sometimes, Gretchen drives a woman to her appointments, runs errands, or schedules deliveries as required. The satisfaction of seeing the woman smile when she moves into her house makes it all worthwhile.
When she is not writing out notes, or updating case papers or making still another call to schedule an appointment, there is singing. Gretchen recently joined the Kirkland Choral Society and is looking forward to her first concert in winter. "Singing has always been my favorite creative outlet, and the choir was part of much of my life. I look forward to rehearsal every week to relax and do something just for myself."