13 Jun

On The Job With Melissa Peoples

Melissa Peoples carries the love of her family with her everywhere she goes. "My family is the reason I do everything I do. They keep me going."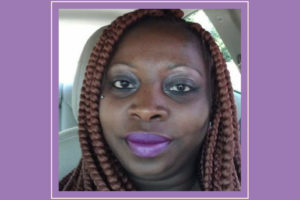 Melissa is the Night Shelter Manager at Sophia's Place. The program, called The Sophia Way Night Shelter Program, is 21-bed shelter program that resides at St Luke's Lutheran Church in Bellevue. It provides 21 women six months of stable transitional housing along with warm meals, supportive case management as they navigate their way to permanent housing of their own, and supportive shelter staff who ensure the women have a warm and safe environment to reside in.
"My engagement with the women is what motivates me to do the work I do," says Melissa. Having joined The Sophia Way just over nine months ago, her primary role is to ensure that the women are taken care of, and the shelter runs smoothly during the night.
"My most favorite part of my shift is opening the door to welcome the ladies in for the evening," she confesses.
From then on its all hands on deck as Melissa and her staff interact with the women to make them comfortable and provide all that they need. That includes signing up for showers and laundry, giving bus tickets to those who need them, and ensuring women have a hot meal, and access to the computers, hygiene items, clothing items, and other needed supplies.
"It's busy, high energy, and fun," says Melissa. "I am definitely on my toes through the evening! There is some chaos from time to time, but I have support from my team when needed. Scheduling is probably one of my most difficult tasks and trying to get everything done in the time that I have is a challenge sometimes."
Her passion for helping others is what takes her through the tough times. She feels rewarded when she sees the women smiling and enjoying their evening at the shelter.
Melissa also spends time prepping the shelter with the help of her team, interacting with donors who bring the dinner meals, training shelter staff, doing some light housekeeping duties, and helping in maintaining the donation room.
Her time off from work is focused on her hubby and kids. They love to go on family drives and explore the beautiful state of Washington and all of its attractions.
"I love my job and all of the ladies we support at The Sophia Way," says Melissa, as she signs off with a big smile!