07 Jul

On The Job with Tara Noyes
A Girl for All Reasons
When you need something done or fixed at The Sophia Way's admin office who do you call – Tara Noyes!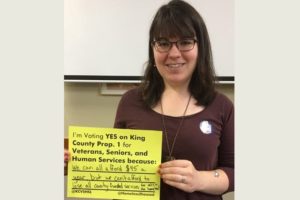 Can you…? Where is…? How do I…? Are the plaintive refrains heard regularly through the day and Tara, ever smiling, jumps in to resolve the issues.
Officially designated as Operations Manager and Volunteer Coordinator, Tara's role encompasses much more. She joined as an intern (Development and Communications) at The Sophia Way in February 2015. Having moved to Seattle from the East Coast, she was determined to realize her dream of working for a nonprofit. She had no prior experience with a nonprofit – only the desire. One day, as she was scanning online job portals, she saw a posting for an internship at The Sophia Way. "The position seemed interesting, and something I could do well, but what drew me in was the mission," she says. Her hard work and commitment to learning on the job resulted in her being offered a position, seven months later, as an Operations Manager!
When people ask her about her role, she usually saves time by saying,
"My job is mostly everything that isn't specifically someone else's job."
Her role covers three areas – operations, volunteers, and reporting. As reporting specialist, she keeps track of client and program data that The Sophia Way uses for applications for government funding and grants, and for general communications. As a volunteer coordinator, she ensures that people who are interested in volunteering are given tasks that are the best fit and given training if needed. As an operations manager, she manages everything from maintaining the office to human resources, helping with fundraising, advocacy, systems, and policy development, answering phones, plus whatever random need happens to pop up that day!
Even though it can at times get challenging, she loves that her job allows her to wear so many hats. "I feel very connected to the different programs and departments since I work with all of them. I have learned and grown so much in my job and as a person from my time here, having the opportunity to develop many different skills and work with a variety of wonderful and diverse people."
When not at work, Tara likes to relax at home with her fiancé and their guinea pigs. She enjoys cooking and eating vegan food, binge-watching TV shows, and occasionally singing a Disney song or show tune when driving alone in her car. She also makes time to keep herself updated on political and social justice issues.
"What I love most about my job is the work that The Sophia Way does and the people that I get to do it with. Each of my coworkers and all of our volunteers are some of the kindest, smartest, strongest, and most inspiring people I've met. The impact we are making on each woman we serve and the community as a whole is so clear and so incredibly important, more so every day."