19 Apr

Our New Office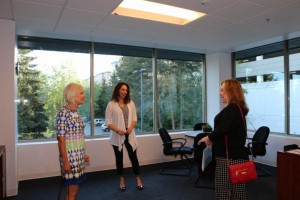 We moved to our beautiful new office space on April 1, 2016. Our shelter, Sophia's Place, continues to be in the basement of St. Luke's Lutheran Church.
We have unpacked, settled in, and had our Open House event on April 8. 40 people joined us in celebrating our brand new space. We had a small ceremony to thank our amazing Board of Directors. They were instrumental in establishing the connection and partnership with the generous Bellevue First Congregational Church in making this new space a possibility. We look forward to a bright new future for The Sophia Way.
Please feel free to stop by anytime and give your encouragement and support!
Our new address:
11061 NE 2nd St,
Suite 223,
Bellevue, WA 98004