24 Sep

Our Numbers So Far!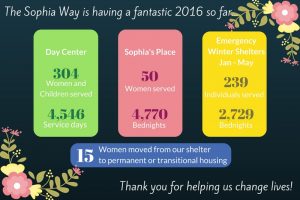 We've had a fantastic 2016 here at The Sophia Way! Here's a look back at the year so far in numbers:
Day Center:         304  Women and Children served
                                 4,546  Service days Center
Sophia's Place:   50  Women served
                                 4,770  Bednights
Emergency Winter Shelters for families and single adult women (January – May)
                                 239  Individuals served
                                 2,729  Bednights
And finally…
15  Women who have moved from our shelter to permanent or transitional housing!
We could not have achieved any of this without your generous support!
Thank you for helping us change lives!