30 Apr

Partnership with PlayNetwork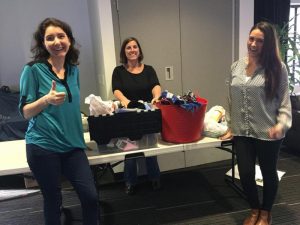 One of the best parts of working at PlayNetwork is partnering with The Sophia Way and other organizations through our Give committee. I love being part of Give because I get to learn about critical issues in our community, and help organize simple ways employees can make an impact.
We discovered The Sophia Way last Fall while collecting socks, underwear, hats, and other warm items to donate. What impressed me is the practical, comprehensive model The Sophia Way uses to help women transition from homelessness to stable independent living. They know the importance of the big stuff like shelter, meals, laundry, and case management, as well as the small details like women serving themselves breakfast, that cultivate dignity and self-sufficiency. I feel more compassionate toward folks experiencing homelessness, which The Sophia Way reminds us is a phase, not an identity.
The relationship between PlayNetwork and The Sophia Way has grown, with staff from The Sophia Way coming to judge our holiday "Deck the Desks" contest, a wonderful tour of the shelter, and kicking off our meal donation program. Recently Kavya Dharmarajan, Development & Communications Director, spoke at PlayNetwork so more employees could learn about and participate in their important work. Partnering with Kavya, Pat, and the whole The Sophia Way team continues to be a source of inspiration, and we look forward to an ongoing and fruitful relationship!
This beautiful article was written by Kimberly Absher, Human Resources Coordinator, PlayNetwork