04 Apr

Selfless Giving

There is a quote by Albert Schweitzer that we feel expresses best the hearts of our volunteers: "Wherever you turn, you can find someone who needs you. Even if it is a little thing, do something for which there is no pay but the privilege of doing it. Remember, you don't live in the world all of your own."

The history of The Sophia Way is entwined deeply with the spirit of volunteerism. The organization was founded by women who dedicated their time and hearts to alleviating the pain and trauma of women experiencing homelessness.

From humble beginnings of eight mats on a floor, the organization had grown to serve more than 4000 women in its ten years of service. Today there is a Day Center that provides respite from all elements, seven days a week, a night shelter for 21 women, an overnight emergency shelter, and street outreach that hopes to reach women where they are at.

And, supporting us at every step of the journey has been our very large community of volunteers with even bigger hearts. At any point in time, there have always been more volunteers than full-time staff.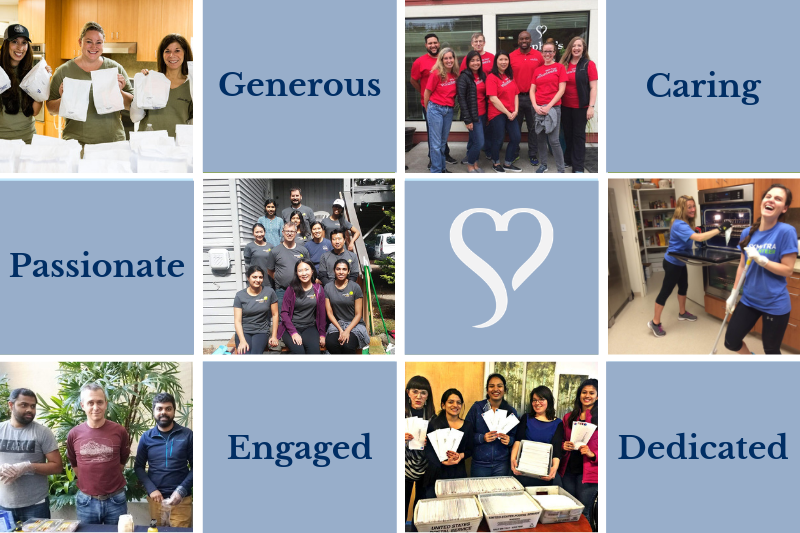 Our volunteers are selfless in giving their time and skills. The faith community, young professionals, high-school students, girl scout troops, new immigrants – people from all cultures and all walks of life. They come together to make and serve meals; hold donation drives for critical items; drive women we serve to medical and essential appointments; even deep clean the shelter. Volunteers bring order to our donation room, hauling and sorting boxes and bags of donated items. They help in office tasks so that we are more effective in our work. They are there at our front desk to greet everyone with a warm smile.
We celebrate when a volunteer evolves into full-time staff! We have many examples, but there is one we'd like to share. Kavya Sarat came to The Sophia Way in 2013, as a "volunteer volunteer-coordinator" and through her passion for making a difference, joined the staff two years later as the development and communications manager. She left last month and will surely be missed. With her positive attitude and unbound energy, she attracted people to The Sophia Way and built a large community of donors, volunteers, and supporters.
Our long-time volunteers are many, the list is far too long, but we asked a few  to share why they volunteer for The Sophia Way.
Sue Fazio is our queen of thank you notes. Our donors are always thrilled at getting the personalized cards that she painstakingly designs. "I volunteer because I have empathy for exactly how these women feel when they go through homelessness. It is traumatic and painful, but by talking to them, you get a realistic view of just how strong they are. When faced with serious adversity every woman buckles up and takes her situation on headlong and headstrong. You really respect that. This could happen to any of us, as you never know what life might bring you. It could happen to you, and it could happen to me. I consider it an honor to care about each of the women, as they are very special.
Alison Dildine has been a front desk volunteer for many years and now trains new volunteers for that work. "I am passionate about volunteering at The Sophia Way. I believe in the mission and have enjoyed participating in a variety of opportunities in the seven years I have been volunteering."
Carol Thompson, a long-time shelter volunteer is a our new volunteer coordinator. "Like most volunteers I want to give back to the community. I am particularly drawn to the issue of homelessness and I am in alignment with The Sophia Way philosophy of "housing first". It makes total sense to me that people cannot think of anything else when they are constantly worried about their personal safety and the safety of their belongings.
Their hearts, filled with love and compassion for women experiencing homelessness, overwhelms us.
Thank you all, for what you do!