26 Nov

Serving the world, one person at a time
1,095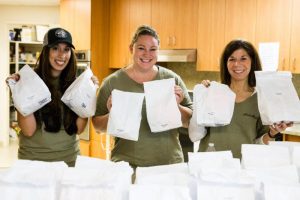 That's the number of meals that are provided each year to our Shelter. Community volunteers are the backbone of the work we do. You provide 3 meals a day, EVERY DAY of the year.
Preparing a meal for potentially up to 40+ women is a huge task, but when done with a group of friends or family, is completely manageable, and even fun! Preparing that meal, delivering the meal, and SERVING that meal to our clients is an admirable and rewarding volunteer experience.
As we approach the holiday season, the need has never been greater. If you are interested in donating a meal, please email meals@sophiaway.org
Click here to know more!
The chili was just the way I used to cook it. It brought back so many lovely memories. Thank you for the home-cooked, delicious meal that I will always cherish." 
– Olivia, a resident at Sophia's Place