21 Dec

Socks Are Essential

Soul Sisters was founded by four friends who believe that every human deserves the necessities of living. They recently held a donation drive for socks for women who seek shelter and services at The Sophia Way.

Their story

There are many issues that affect people around the world. Many people experience unfortunate events and live through terrible conditions. We hear about these issues and are motivated to help people. Every year, we do a project that we think can help our community. Our work inspires us to continue our journey year after year.

This year, we did a donation drive for socks and underwear for The Sophia Way.
Socks are one of the most needed items for those experiencing homeless. We heard that in a mini-documentary aired by CBC, in which a man stated that he walks 50 kilometers a day! Without this essential need, homeless people suffer every day from injuries and pain. In winter, this need is exacerbated, and more socks are needed.
When we took a tour of The Sophia Way's shelter in Bellevue, we learned about their services and resources. Most importantly, we learned about the reality of homelessness and what we can do to help. This inspired us to do a sock drive for The Sophia Way. We also got to know that underwear were another essential item.
We decided to collect socks and monetary donations. We planned to use the money we collected to buy more socks. However, we needed an organized system to put together our donations. To be effective in our contribution to the shelter, we set a goal of collecting $1500 or 500 new pairs of socks. To advertise and spread the word about the sock drive, we created a flyer containing all the information needed. We visited stores, like Fred Meyer and Target, to ask for donations. Finally, we created a fundraising page (GoFundMe) for donors to donate money.
We spoke to friends and family – telling them about the sock drive, as well as what they can do to help. Our efforts were successful and we eventually reached our money goal.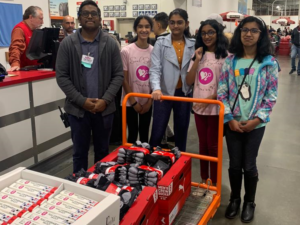 It was then time to buy socks. We visited different stores to compare prices; our families helped us in this. We wanted to ensure that the socks were of good quality and so ordered samples from a few wholesale vendors. Costco helped us with donations and procuring the merchandise. Finally, after discussion and comparing prices, we decided to buy equal amounts from both Costco and a few wholesale vendors.
We were able to buy 500 pairs of socks with the money we had! We also had some money left over. We remembered that on our tour, The Sophia Way staff had mentioned the need for underwear. So we decided to buy underwear as well. We had reached our goal and MORE!
We learned a lot from our donation drive. We learned that when we are given a chance to do beyond what is expected, we should take it. We also learned that we must do what is needed to make the world a better place!
– Soul Sisters