07 Dec

I'll never leave The Sophia Way

If you come to The Sophia Way midweek, on a Wednesday or Thursday, you will be greeted by a smart, ebullient, rail-thin, stylishly dressed woman, who will give you a big smile and make sure that you – whether a donor, a client, or someone seeking information – will get what you need.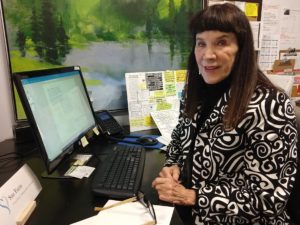 She is Sue Fazio, our front desk volunteer since 2014. At The Sophia Way (TSW), we can't imagine life without her! Sue is never still and ever willing to do any task that you ask. She keeps the office running smoothly, takes care of the plants, cleans, and creates beautiful, one-of-a-kind birthday cards.
Most of all, she is our STO (Special Thank-you Officer). Over the years, our donors and volunteers have been receiving 'Sue Cards' – special notes painstakingly and lovingly created by Sue. She puts great thought into personalizing each one with the person's impact on The Sophia Way and the women we serve.
"I love doing the cards and have done it all my life," says Sue. "I feel it's important to appreciate someone who had done something special. We have so many wonderful people who give not only money but also their talent and skills, and I want to let them know how grateful we are for their support."
In her pre-retirement life, Sue worked at different jobs, among them at GE where she managed its rewards and recognition program from which she was inspired to create our thank you cards. When her significant other retired, Sue wanted to spend more time with him and stopped working, but couldn't sit still. She started looking for a volunteer opportunity in an organization that was working for women experiencing homelessness on the Eastside. "I would see women on the streets and talk to them. I always thought – 'it could happen to me'. I wanted to use my creative skills to help them."
A Google search led her to TSW, and she hasn't left since. "I'll never leave The Sophia Way," she says with a smile. "I love it here. I am never bored." She looks forward to days that she works, bringing her renewed energy and a sense of purpose. Often she has her to-do lists ready even before coming to the office.
Sue is a people-person. Longtime development specialist, Kavya Sarat holds a special place in her heart. "Her smile, her manner, and the way she pulls everybody into her heart are wonderful." Another person she admires is operations manager, Mary VonRanker. "Mary taught me important life lessons. When I'm feeling down, she brings me out of it."
Sue's empathy for the women experiencing homelessness is evident in her every action. When a woman accidentially comes to our office instead of the shelter, Sue will drive her there, tell her about the services, and make sure she is taken care of. "I always worry about them. They need hope. They deserve support."
That same empathy carries through the calls she answers. "Being at the front desk, you have to be prepared for difficult calls," she says. "You need to exude positivity and energy and work with them to help them with what they need."
Sue thinks our case managers are "beyond fabulous" and understands how sometimes it can be very traumatic for them. "But," she says, "they never stop caring." She recounts how last week a woman wanted to meet a case manager, but didn't have an appointment. Sue ensured that got help. "The woman was crying, but the case manager spoke to her gently, calmed her down, just pulling her into her aura of warmth. It was wonderful!"
Sue, we think you are amazing and wonderful!
---
Sue genuinely cares about our mission. Her heart is full of love, and everybody who walks in feels a part of The Sophia Way family thanks to her hospitality. There was a donor who had received many 'Sue Cards', and in one of them, she wrote a poem. He was so moved that he donated his almost brand new car when he moved to another state. That's Sue's power – to make somebody in the community fall in love with The Sophia Way.
– Kavya Sarat (Development Specialist)
---