06 Apr

Support. Resources. Kindness.

Kim recently went through a divorce after 20 years of marriage. She suddenly found herself in a tough situation. She had spent the last 20 years supporting her husband in his career, and now she had to find a job as soon as possible.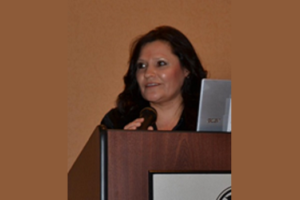 Kim spoke at our 2014 Luncheon, just a week after she received her full-time job with benefits
"My first job after my divorce, I was a lead at a retirement home," she said. "I reported abuse and neglect. I was demoted and so turned in my keys." Kim looked out for a new job, but it was impossible to keep up with the rent, so she lost her apartment.
She accessed resources offered by the Emergency Winter Shelter. "That is when I heard about The Sophia Way," she said. "When I reached out for help, they were there to help. Not only there to help, but there to guide those looking to better their lives."
She stayed at the Emergency Winter Shelter rather than with friends, because she wanted to learn and to become independent. Like many women, she transitioned from the Emergency Winter Shelter to the six-month program at Sophia's Place. She was given her own quiet space, and she was given access to resources for her job search, along with guidance and encouragement.
After a few months, Kim moved to Holly House, a six-bedroom transitional housing with a house manager, where she pays rent. "It has given me almost complete independence," she said. "But the Sophia Way is still there if I need guidance, advice or encouragement. If I need any information about programs that would help me, they are there."
She mentioned the kindness of The Sophia Way staff and the different ways they helped: general encouragement, financial guidance, emotional guidance, and nutrition advice and exercise tips. She described the staff as non-judgmental and kind. Kim believes that the kindness the women receive is one of the most important things about The Sophia Way.
A week before Kim gave her speech at The Sophia Way 2014 Luncheon; she received some good news! She was offered a full-time job with full benefits, which would let her take the next step towards living on her own.
Kim described herself as independent, with confidence that she could stand on her own, thanks to everything she learned through The Sophia Way.
"You follow this program, you will get results in life," she said.