28 Jun

Survival is a full-time job!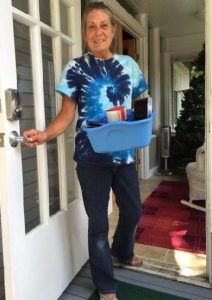 This is Beverly's story in her own words:
I am writing on behalf of thousands of women who are homeless;  mostly unheard, definitely misrepresented and all victims of prejudicial thinking by the majority of Americans.
SURVIVAL IS FULL-TIME JOB.
No one on the planet chooses to be homeless unless the alternative options are worse;  severe abuse or, most likely, economic…
The reported numbers are woefully inaccurate. You could triple any reported statistics and barely come close to the number of women who live morning to night to morning, perhaps for months or even years, who are just trying to survive and be safe.  Misconceptions run rampant.
I grew in an upper-class home with upper-class values. A masters degree was expected at a minimum, 4.5 average-the norm. I heard enough horror stories of shelters that I would not even consider to live in one. It stems from unsafe neighborhoods to unsafe conditions of multiple thefts, lots of noise, light, and very little sleep.
But it only takes ONE unfortunate incident to put you there.
I chose to live out of the back seat of my Subaru for eight months so I could still work full-time at the Issaquah Salmon Hatchery, because of my love of nature and it was a job; knowing hatcheries aren't always the answer for salmon, but keeping something alive for the community around me and something alive in myself for doing so. Never enough money to remotely move into an apartment or room of any sort, though. My car got towed from a flat tire I couldn't fix.
I chose to go to the woods.  The elements are severe. It's either cold or hot with relentless bugs and always, always, wet and muddy. Carrying drinking water, laundry, traveling miles for food on the bus; it all takes unbelievable amounts of time and energy and is spiritually draining. It becomes your whole life – SURVIVING. I often had to sign on the street for the money to get laundry done. I was always asked my story. No one believed I was on Wall Street in the 80s. I couldn't myself. The humility and embarrassment are life and spiritually draining.
Then luck struck – a social worker out of the blue, telling me about The Sophia Way. I went for the interview, was put a list and three days later received a call of acceptance.
I met many women who were close to my age so it was easy to relate to them. We were all in need of resources to get back on our feet – we were there for a purpose. It was astonishingly welcoming. I hadn't experienced being with others so concerned for my well-being. Food, toiletries, haircuts and medical help, classes, transportation assistance, secure places for belongings. It allows you to have the opportunity to think about and pursue goals that you may have given up.
The Sophia Way is an absolute blessing and Godsend.  The Sophia Way changes lives for the better.
Please help keep this place alive and functioning with your resources. They always need your help and so many women's lives have drastically changed for the better because of it.
So many women have gone on to thrive because of The Sophia Way. Please help to get women off our streets and onto to being who they know they are capable of being.
– Beverly Ashmun, client at our Transitional Home