07 Jul

Symetra Steps In

In June 2018, Symetra made a gift of $100,000 to The Sophia Way, enabling us to keep our emergency shelter open from June to September.

Linda Benson, Director of Community Development at The Sophia Way, shares how it all happened.

[Also view KING 5's Vanessa Misciagna's report on our emergency shelter and the support given by Symetra]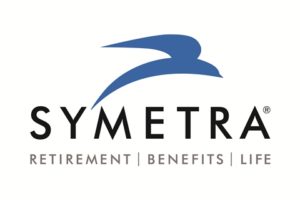 On April 12, I was at a meeting at Symetra presenting information about The Sophia Way and sharing with them some of the myths surrounding homelessness. There was a noticeable boost in the room's energy with many questions about our work and greatest needs. This kind of response is a great moment for those of us who speak with groups, but what unfolded was something I never dreamed would come out of the presentation.
Among the questions asked was what the most desperate need was for those we serve. It was a timely question, as I had just had a conversation with Cynthia Brown, our Director of Emergency Services. Cynthia had mentioned the growing level of anxiety the women in our emergency winter shelter were experiencing because the closing date of the shelter was fast approaching.
Every year, we have funding to operate the emergency shelter only during the coldest months – mid-October thru mid-May. On May 15, these women would be without a stable and safe place to sleep until the shelter reopened in October. Sleeping outside is a terrifying experience for even one night, but the cumulative impact of weeks on end without a safe place to sleep adds to the trauma these women carry with them every day. So every year as the shelter prepares to close, you can see the fear and a sense of desperation grow that would be common with any human faced with a similar circumstance.
Then came the question I did not expect: "What does it cost to keep the emergency shelter open for another month?" I responded stating I wasn't sure and would get back with that information in the afternoon.
Fast forward a few weeks and on May 9, we received the most amazing news from Tracy Wort, assistant director for Community Relations at Symetra and one of our champions. Symetra would be donating $100,000 to enable us to bridge the funding gap and allow the shelter to stay open until the next round of funding kicks in!
In her message, Symetra CEO Margaret Meister said, "The Sophia Way provides such a vital service to women experiencing homelessness in our Eastside community, we were compelled to step up as soon as we understood that even a temporary closure of the emergency shelter could have devastating consequences for those who depend upon it. As Symetra actively explores how we can be part of a comprehensive solution to address the ongoing crisis of homelessness, we're humbled by the humanitarian work of organizations like The Sophia Way and grateful we could play a role in ensuring there's an immediate option for shelter for women in need on the Eastside."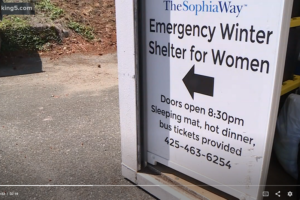 All  of us at The Sophia Way could not have been happier! Angela Murray, Executive Director, The Sophia Way, expressed the gratitude felt by the team and the women we serve. "Symetra's generous gift has made it possible to keep the shelter for women open during the summer and early fall—a significant milestone for us as it is the first time the shelter will be able to operate year-round. The women we serve were thrilled to hear the news and expressed their relief at knowing that they will continue to have a safe, supportive place to sleep at night. Symetra has been a longtime supporter of The Sophia Way, and we are deeply appreciative of their commitment to provide comfort and hope to women experiencing homelessness on the Eastside."
On Monday, June 11, with the gracious and generous support of St. Peter's United Methodist Church in Bellevue, we opened our emergency shelter doors once again, for the summer and first weeks of fall.  We are all so grateful for this extraordinary gift of time and kindness!
Thank you Symetra and St Peters United Methodist Church, Bellevue, for hearing the need and responding in such a bold and powerful way!