10 Jun

Thank you, Alison!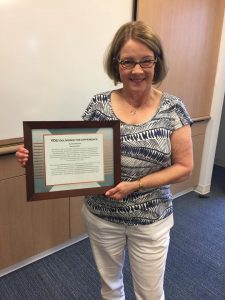 Our wonderful volunteer, Alison Dildine, retired earlier this month after 5 years volunteering at our office.
She has been actively involved with us longer than almost any of our other volunteers and staff. While Alison won't really be leaving us completely (she'll still fill in on occasion,) she has stepped down from her regular weekly volunteering, so we will all be seeing much less of her.
Alison has been here through thick and thin, through a lot of volunteer and staff turnover, and to say that she has done so much for us over the years would be a gross understatement. She has led up the office team, run the holiday gift drive, organized all the volunteer files, tracked volunteer hours, answered phones, and so much more. All of our current office volunteers were trained by Alison, at least in part, as well as some of us that are now on staff!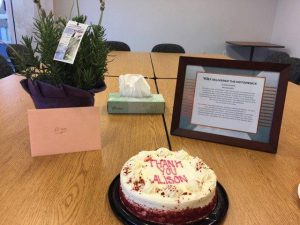 To thank and celebrate Alison for all she's done over the years, we had a small party for her on her last day with us, and reflected on her volunteering experiences at The Sophia Way.
Thank you Alison for your years of service!