18 Nov

Thank You, Sienna!

Siena, an 8th grader at Seattle Country Day School held a donation drive for The Sophia Way. She shares her story.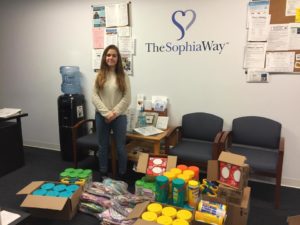 Hi, I'm Siena. I am 14 years old and in the 8th grade at Seattle Country Day School. I volunteered to do a donation drive for The Sophia Way because I wanted to help women experiencing homelessness.
I found out that the shelter needed underwear and disinfectant wipes. Then, I asked my friends to donate to my drive. I found a good resource on Amazon for underwear and I sent the link to my friends so they could easily donate. I asked people to bring me disinfectant wipes and many of my friends did. People from my soccer team and from my school gave to my donation drive. I also bought wipes and underwear for the donation drive. I was very impressed with how much people were willing to contribute.
When I brought all the donated items to The Sophia Way, I felt so great. I am glad that my contribution is going to have a good impact and help the women in the shelter.