08 Apr

Thank You, VISA volunteers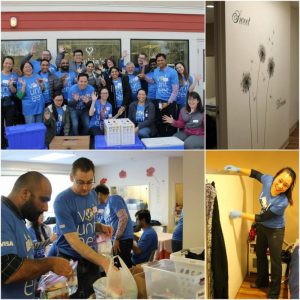 On the afternoon of March 16, 22 volunteers from the Visa Bellevue office came to our shelter to do several projects. The group broke down into smaller teams and went to work – they organized our donation storage room, toiletries closet, kitchen, pantry; sorted a large donation that had just come in that day; deep-cleaned the common room and sleeping rooms; and decorated our walls with decals, making the space look even more beautiful and inviting! In addition, they donated hundreds of dollars worth of cleaning supplies, snacks, and other essentials, and packed over 100 emergency kits to give out to those in need.
The volunteers had a great time and made a huge impact, and we are so grateful for their time and generosity!
"I realized if we get together we can do wonders." – A Visa Volunteer
We are also extremely grateful to Seattle Works, a local company that connects volunteers to causes that need them, for making this project happen. Having someone do almost all of the project coordination, order the supplies, help with the day-of set-up, and take all the amazing pictures was hugely helpful and made this project so much more fulfilling and meaningful for everyone involved. We hope to work with you all again some day!