02 Jan

Thank you, volunteers from Kalos Church!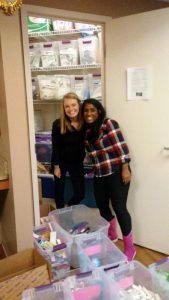 As part of the overwhelming community response to our Holiday Initiative, 30+ volunteers (our largest group ever!) from Kalos Church deep cleaned and decorated our shelter earlier this month.
Each volunteer was hard-working, self-sufficient, and very enthusiastic about their tasks. The volunteers completely cleaned and reorganized our kitchen, including the pantry and refrigerators, dusted every surface, including inside the ceiling lights, touched up paint on the walls, swept, mopped, scrubbed, and more. The whole place was sparkling when they were done!
To top it all off, after the cleaning was complete, they decorated for the holidays, hanging garlands, lights, and setting up a tree. The shelter residents who came in later that night were so impressed and so grateful to have their temporary home made a little more beautiful and cheerful for the holidays.
Thank you to the wonderful team from Kalos for this amazing gift!