12 Oct

Luncheon 2018: You Made It Happen!
What an afternoon!
Our community – supporters, volunteers, partners, friends, family gathered together to support the mission and work of The Sophia Way, and together helped us raise
$227,294!
Thank you for embracing the women and their stories; and thank you for opening your heart. The money will support the growing number of women at our emergency shelter, day center, and housing programs!
---
Highlights of the Day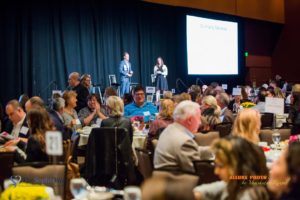 The day began with a special reception to meet our facilitators Ashley Nicole Black and John Keister.
The Luncheon that followed was unusual and unique.  Our facilitators and storytellers took the audience on an emotional journey punctuated with humor as myths around homelessness were busted through quizzes, video skits, and stories. The audience welcomed the banter between Ashley and John, and listened intently as our storytellers shared their personal trauma and the success of finding an affordable apartment.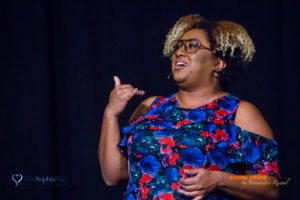 Ashley, an Emmy award winning comedian, actress and writer, and a passionate supporter of animal rights and social justice movement, shared her thoughts on why she chose to be at our luncheon: "My moms works on homelessness issues in Los Angeles and as soon as I was offered the opportunity to support The Sophia Way, I said yes, I want to help. What excited me about the luncheon specifically was that we are doing a lot of myth busting and that I feel is such an important step. I do think that people have good hearts and they want to help but they've built up all these mental blocks to getting out there and actually doing the work. So hopefully we are going to do some myth busting today to break down those mental blocks so that we can follow our hearts and #OurWayHome."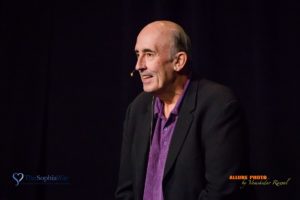 John, a comedian, writer, commentator and motivational speaker, is a Seattle icon known for his popular Almost Live! Here is what he had to say: I  felt very strongly that I wanted to be a part of the luncheon because I was not aware that there were even problems on the Eastside. I thought it was one big beautiful place and I've since understood that they have the same problems as we have in Seattle and other major cities around the country. Homelessness is an issue that has been close to within my family, I've had to help a lot of people. And I get the sense that people really just misunderstand what homelessness is all about. My ask of the community is to understand that everyone one of us is very very close to homelessness. People don't understand that – you can be very wealthy and a few missteps and you could be right there. It's very easy to believe that that can't happen to you, but it can."
---
We partnered with The Syndrome Mag to tell the stories of women experiencing homelessness in a new way. These were shared at our Luncheon 2018. The postcards and articles use humor to discuss the challenges the women face everyday and appreciate their strength and resourcefulness.
---
Our deep appreciation for all who made this luncheon possible.
Our Sponsors
Our Partner-In-Laughter, The Syndrome Mag
Our Pacesetters for making advance gifts of $1000 or more to help us reach our goal.
Our Table Hosts for filling the room.
Our Board for their support.
Our wonderful volunteers for their time and skills.
Our Production Team of Matthew Lang, Endless Film Production, the actors and storytellers, and Vamshidar Rawal (Allure Photos)