10 Dec

Thanksgiving at Sophia'a Place

With the days getting shorter and darker, we are very happy to be open on weekends and holidays. Instead of trying to figure out how to survive outside in the cold, women who are experiencing homelessness come to our Day Center to rest, recuperate and recover while they get a warm meal, a hot shower and access critical human services.

On Thanksgiving day, we were one of the very few places that remained open. And thanks to our extremely generous community, we were able to provide some extra holiday warmth and cheer!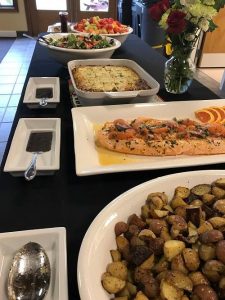 We had a community member donate a big Thanksgiving meal to our Day Center that included turkey, mashed potatoes, stuffing, green beans and broccoli. In addition, every Thanksgiving, our clients are invited to Seastar Restaurant in downtown Bellevue. Chef John Howie has been serving our clients a wonderful (free!) Thanksgiving meal for the last 12 years and plans to continue this in the coming years, too.
Muslim Community Resource Center and Holy Family Parish also invited our women to share delicious Thanksgiving meals. They are long-time supporters who have been inviting our clients for the past several years.
Finally, St. Andrew's Lutheran Church donated gift cards that were given out to 41 women who came to the Day Center on Thanksgiving. This was to ensure they had a place to go between 3 p.m., when the Day Center closed, and 8:30 p.m. when the Emergency Winter shelter opened. Usually, women will spend these hours in a library or other public space, but since most places were closed on Thanksgiving, these gift cards allowed them to spend the hours not only safely in a warm place, but with a nice warm drink for an extra holiday treat. Thank you St. Andrew's!
On Thanksgiving Day, the first Day Center client to arrive showed up right at 8 a.m. She stated, "As you can see, I'm here early. It's because I don't have anywhere to go today. Thank you for being open."