11 Nov

The 2017 Holiday Initiative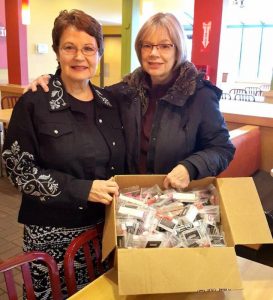 The 2017 Holiday Initiative is well underway and we are thankful for the generous support from companies and individuals in the community.
Our goal is to provide clients at our Day Center, Night Shelter, Emergency Winter Shelter, and in our independent housing program with items and gift cards that will assist them in their independent living. With the increased number of clients at the Day Center and the Winter Shelter, the need has grown since last year. Our clients can use a number of items to ease the harsh winter weather and to raise spirits, too.
What to donate?
Our unsheltered women have limited space – sometimes only a suitcase – to carry all of their personal belongings with them. Gift cards go a long ways to helping them get the items they need when they need them. Stores such as Target, Safeway, Fred Meyer, and fast food restaurants offer solutions to a variety of needs. Women who have transitioned this year to apartment life have different needs from those who seek shelter at the winter shelter. If you can let us know what you might be donating, we can coordinate all the efforts so that we have something for every client who requires support from The Sophia Way.
We have many opportunities for giving; please email our Holiday Initiative Coordinator, Pat Landy, pat@sophiaway.org with your ideas or to start the conversation.
This year, all donated items are due to the administrative offices of The Sophia Way by Monday, December 11. Please donate new items for the Holiday Initiative.
Your donations will brighten the days and spirits of many women. Thank you for your support this holiday season! Your generosity coupled with the spirit of the season wraps our clients in care and love.
Thank you to our donors who have already pledged their support:
The Thyagaraja Family
Dignity4Divas
Cathy Relyea
Eastside Assistance League
Mike Glenn and friends
Susan Harvey and friends
St. Andrews Lutheran Church
Rick Leuzzi and Cepheid
Master Builders
Eastshore Unitarian Church
Lori Steiner
Eating Recovering Center
Suzie Nelson
Alpha Delta Kappa, Sigma Chapter
New Seasons Market
Trader Joe's
Forest Ridge School
St. Madeleine Sophie Church
Anee and Natalie Gautier
Kirkland Girls for Good
St. Luke's Lutheran Church
St. Louise Church