09 Oct

The Gift of The Sophia Way

Message from Pastor Jim, St. Andrew's Lutheran Church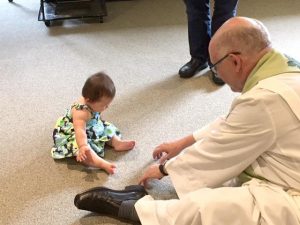 Thirty years ago, the faith community I serve heard and responded to the need for affordable housing. In Bellevue, the words were not unlike those we heard today that there is no affordable housing. As a result, Saint Andrew's Housing Group was started with a $2000 commitment to begin the change to housing security.
Throughout the years, what is now Imagine Housing, has sought partnership with those who share a common goal. And that has built a strategic partnership with The Sophia Way. In so many ways, that collaboration continues in a powerful way to move from shelter to permanent housing.
I will always celebrate the wisdom of a woman, Helen Leuzzi, who one day said "We need your help." It began simply with financial commitment, then collections of toiletries and clothes, which lead to what I call a "heart commitment." This means solidarity in moving together with other organizations which meet the shelter need for men and families.
Each night I take out a key and enter our home. A warm and safe shelter for our family. Think about that for a moment. A key! Which means access!
I celebrate the work of The Sophia Way. A foundation to the work we do to end homelessness. No greater love is found than collaboration with the other human services organizations to be "the key" to new beginnings.
Once in time, a woman living out of domestic abuse found her way to The Sophia Way. A year or so later, at the opening of Francis Village, in Kirkland, she found a man with a clerical collar. "Thank you," she said, "I now have a true home."
Blessed work we share!
The Reverend James McEachran
Senior Pastor, Saint Andrew's Lutheran Church, Bellevue, WA