13 Jun

The Growing Need for Affordable Housing

The Affordable Housing Week is an annual event that shines the spotlight on issues surrounding homelessness and what we as a community can do together to support the people experiencing homelessness. As the number of men, women, and families experiencing homelessness continues to grow, this need has become acute.
Five Eastside organizations – Attain Housing, Congregations for the Homeless, Imagine Housing, LifeWire and The Sophia Way together organized a discussion on May 17 on "The Difference a Home Makes: A dialogue about homelessness and housing on the Eastside." The event was hosted by First Congregational Church in Bellevue.
The evening focused first, on the myths surrounding homelessness and the data that contradicts some of these harmful beliefs; and second, on the real stories of the case managers and their clients who had experienced homelessness.  The stories that were shared were heard by an attentive audience and proved impactful.  Of those who responded to an after-event survey, 70% reported that their understanding of the housing crisis had changed as a result.
We heard from Aleta from The Sophia Way, Bob from Congregations for the Homeless, and John from Imagine Housing about the heart-wrenching trials and the humiliating judgments they endured as they moved through the complicated process of finding housing.  We also participated in a brief simulation facilitated by LifeWire that challenged thinking about the real story of those trying to escape domestic violence.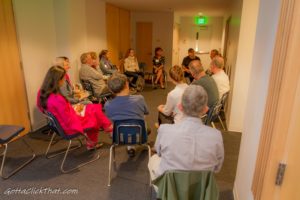 We also heard from James, an immigrant from the Marshall Islands with a voice that spoke of the desperation experienced.  "I stayed with my wife and kids in a truck for nearly four weeks," he shared.  Like so many parents, they emigrated many years earlier to ensure better education and future for the children. "Staying with the family for weeks in a truck was a really bad phase of my life."
The family did find shelter at Mary's Place after a few weeks, and nine months later were able to move into a three-bedroom apartment in Bellevue with the support of Attain Housing's transitional units. Now, having their own apartment and being stable has made a huge difference. James is working at Sea-Tac refueling planes, and his wife Samantha is also working.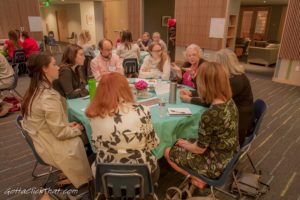 The common themes in these stories spoke to how essential professional case management is in providing emotional support and helping to navigate the seemingly impossible maze of housing opportunities in an environment where the demand way outpaces the supply.  Storytellers also highlighted how grateful they are to their case managers who continue to stay connected and of support as needed.  The stories also illustrate the strong relationships that exist between the organizations providing homeless services. Working collaboratively has allowed us to share resources, information, and referrals that benefit more individuals and families.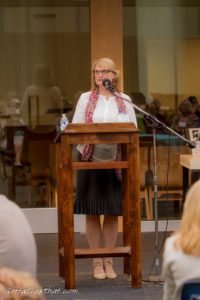 In addition to these courageous stories, Linda Benson, Director of Community Development at The Sophia Way did a presentation surrounding the current state of housing and the myths that perpetuate a false narrative of those experiencing homelessness.  The goal of this kind of presentation was to help community members begin to shift from the popular perception that those experiencing homelessness are to blame, to the real underlying causes at a systemic level.  In other words, focusing on the true "owners" of the systems that perpetuate this crisis is a much more positive and effective strategy.
Using a light-hearted tone, Linda shared, "the good news is that we have identified the owners of homelessness; and the even better news is, it's us — everyone who is a part of the community.  This means that we don't have to be paralyzed anymore wondering who owns this mess and who is going to fix it finally. This is important because if you own the problem, you also have permission to solve it."
Using personal stories and real data, all of us can contribute to the solution, but we need to change the prevailing story.  "Once people begin to shift the way they think about homelessness and talk about this difficult issue, there will be cathartic moments, and the goal will seem more achievable."
Here are some highlights:
Myth 1:  People who are suffering homelessness are lazy, and do not want to work
Truth: The real story is that many are working, but the cost of housing is significantly greater than the average wage. Another reality is that the amount of work it takes to survive without stable housing is a full-time job in and of itself.
Data Point: Studies show that 25% of those experiencing homelessness are employed
Data Point: If you were only making minimum wage, to safely afford a two-bedroom apartment near Bellevue would require 150 hours of work each week.
Myth 2:  Homelessness is a choice
Truth: No one wants to be or stay homeless because it is traumatizing, humiliating, and dangerous.
Data Point: In 2015, the medical examiner's office reported that 90 people died while homeless on the streets in King County.  In 2017, that number was 169.
Data Point: Studies show that many events witnessed or experienced by those living homeless can cause serious trauma and that over time, the compounding effect is debilitating.  The trauma in the streets often leads to PTSD, which is a condition where neural pathways of the brain are altered.
Myth 3:  People become homeless due to their own mistakes or failings
Truth: Given the right combination of factors, almost anyone is at risk of homelessness.  In reality, the biggest difference between the housed and unhoused is the depth of a person's safety net.
Data Point: In the 2018 Count Us In Survey by All Home, the top two reported reasons for homelessness was loss of a job and lack of affordable housing.
Data Point: If we were to provide enough new affordable housing to address the current need in King County we would need to build more than 100,000 units.
King County Councilwoman Claudia Balducci was at the event and confirmed that affordable housing is a major concern on the eastside. When asked about the perception that homelessness is not an issue on the eastside, she responded:  "The eastside doesn't have the street kind of homelessness as seen in Seattle.  Here we mostly have people living under bridges, in the woods and shelters. It is very much present; it is just hidden."
At the end of the evening, the audience was asked to respond to "What key insights, curiosities or stories are you walking away with?"
Some of the responses:
Why is nobody talking about the fact over 50% of Americans are living check to check? This means they are one check away from homelessness!
The lack of affordable housing seems to be the crux of the issue
What are the solutions to achieving affordable housing?
Homelessness is a complex issue
Case managers are important
They were also asked to put down one thing they would do to spread the word about the homelessness crisis in their community.
Blog and share about homelessness on social media.
Contact Redmond government about the need for affordable housing
Share the stories I heard and the data I learned, with my friends and family on the Eastside.
Look into volunteering with an organization
Write a plan of action regarding solutions to the problems faced by people experiencing homelessness
Host a clothing and food drive at a local QFC for homeless youth in Seattle.
Commit to calling council members
We have more work to do, and this is a good beginning!
View photo gallery of the event here.
 — Article by Pinky Gupta, Communications and Volunteering Intern