07 Jul

The Queen of Wash and Fold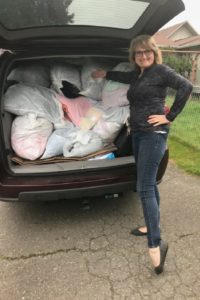 In May, Linda Benson, Director of Community Development at Sophia Way, volunteered to take the blankets from our Emergency Winter Shelter and get them washed at a laundromat. It was hard work, and Linda learned something that morning.
Read her story in her words.
I've never been one who enjoys doing laundry, but I have to admit that I enjoy folding things like towels, sheets, and blankets because they're easy, square, and appeal to my compulsive side when I create a perfect stack! If this is something you also like to do, you're going to love this story.
One week in May, I decided it was my turn to do the Emergency Winter Shelter laundry, which consists of approximately 70-80 blankets. It is a task that staff has to do regularly because we can't seem to muster up volunteers to help. This was surprising to me because I know there are many obsessive-compulsives out there that would get a kick out of it. So, here is my story and hopefully, it will inspire you to pitch in the next time.
7 a.m. Picked up the van at the office along with a box of supplies and what felt like 40lbs of quarters.
7:30 Arrived at the Emergency Winter Shelter, then hosted by Holy Cross Lutheran Church, and was greeted by a very cheerful shelter staff member. She was clearly happy to see me, which I chalked up to my sheer presence. When she enthusiastically grabbed my arm to pull me to the storage unit where the blankets were stored, I understood her real motivation… "Someone else is gonna' do the laundry this time!" She most willingly helped me load the van with 20 extra-large white plastic bags and bid me farewell.
7:58 I smartly backed up the van to the curb in front of "Waves of Suds" Coin Laundry and grabbed three of the white bags. When the manager saw the back of the van bulging with bags of laundry, he asked if all of it was meant for today. I said, yes, and he showed me to the bank of mega washers and dryers, and wished me luck!
8:03: I got the first two loads stuffed into the washers and ran for the bag of quarters and the box of soap. This was after first trying to load the blankets into a dryer – a nice lady helpfully guided me! After a quick soap tutorial with the manager, I began inserting quarters. That's when my question about why I needed 40 lbs of quarters was answered. Every load required 22 quarters.
8:09 I started to load the third batch when I suddenly realized that each white bag had the name of a woman on it. It was an illuminating moment. It changed my thinking from this being a chore to being grateful for the opportunity to do one small thing for the women who visit our shelter. I don't know their stories, but I thought about each of them as I read their names. And I understood why the work of The Sophia Way and its supporters are so critical to the women who come to our shelter.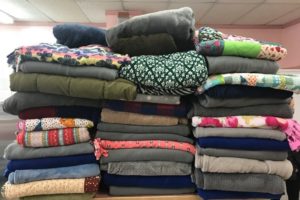 11:15 After three hours, and ten loads of washing and drying, and a whole lot of folding, my stacks were completed. Looking at them, I felt a sense of satisfaction of a job well done.
11:29 Loaded the final bag of blankets into the back of the van and headed to the shelter to deliver clean blankets that would keep the women warm at night.
Fun Facts
Coins needed: 220 coins for the washers + 92 coins for the dryer = 312 coins or $78.00
Detergent needed: 1/2ish cup per mega load
Number of loads: 10
Fabric Softener sheets: Oops… forgot to use them
Hours to complete: 3 hours and 31 minutes (one person)
Our Emergency Shelter is open from June through September because of the generous donation by Symetra [Read the story]. The cleaning of blankets is done every couple of weeks while the shelter is open. It's arduous but essential.
So, if you are looking for a rewarding and invaluable volunteer opportunity, grab a friend, a water bottle, and give me a call at at (425) 463-6285 Ext 111 or send an email to linda@sophiaway.org.