04 Apr

Tracey gets a job and a home!

 Tracy turned her obstacles into opportunities.

It's a great feeling to be handed a new set of keys! Tracey received her set of house keys on Saturday, March 21. She was going to rent from a community member who graciously offered to rent or share her Bellevue home with a Sophia's Place resident.

Tracey has shown great determination since she entered the shelter eight months ago with no job, no resources, and no way to get around. She couch-surfed for more than eight months before she contacted The Sophia Way on a recommendation from a friend.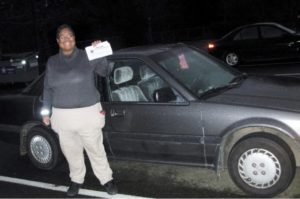 Tracey had lost her job in Oklahoma City. She traveled to Washington for a job interview in the tech field, but she didn't get the job, and was unable to return to Oklahoma City. She acquired a local job after a dedicated search, where she advocated for herself to employers. Tracey was a shoe-in for the job thanks to her job experience and her tireless work. The Sophia Way supported Tracey in acquiring a car, which was necessary to keep her job. She faithfully paid off the car loan and she uses the car to get to work every day.
When a community member approached The Sophia Way with an offer to rent out her home, Tracey instantly came to mind as a perfect candidate. We introduced Tracey to the homeowner, and it turned out to be a great match. We arranged to subsidize Tracey's rent with our rental assistance program for as long as she needs it, as well as provide case management services whenever necessary. Very recently, Tracy moved to her own permanent apartment! She is working hard to build her credit history, to upgrade to a higher-paying job, and after ten years, finally getting rid of her storage unit. We are hopeful that next year, Tracey will no longer need her apartment subsidy and she will finally reach her goal of ultimate independence.