02 Jan

Updates from the Day Center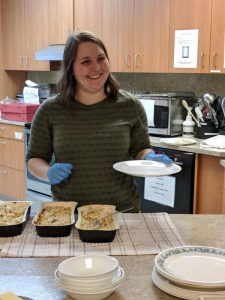 I love the holiday season. it's a time for reflection, for spending it with friends and family, and a time to express gratitude for blessings in your life. The holidays are also filled with emotions and memories, and the nostalgia runs deep. Given that it's a time to spend with others, it can be quite difficult for those experiencing homelessness. Many of the women that we serve at The Sophia Way experience complex and conflicting emotions this time of year, especially regarding loved ones. It is up to us to help our clients feel welcomed and cared for, to try to ease some of the pain that can accompany the holidays.
The support of the community has been overwhelming and so touching. Each day, I have spoken with people who want to bring cozy clothes, food, and holiday cheer to the Day Center. The generosity has been amazing, and the thoughtful touches, like Christmas cookies, letters from children, and warm scarves on the first day of snow, have brought genuine smiles to our women.
I have been consistently surprised by the gratitude expressed by our clients. They are friendly and gracious, affectionate and kind to each other, sharing memories and talking about traditions from holidays past. Even though some are waiting for housing programs throughout the region to have availability, or to hear back from a case manager who's been out sick, most of the women I've spoken with are hopeful and looking forward to working on their goals.
I'm so proud to say that we've housed 50 women this year. It warms my heart to see someone who came in feeling lost and without support get embraced by our sisterhood and find out that there are people and programs who are able and willing to help. It takes creativity and attention to find solutions for each individual's situation, and when we demonstrate that things can be done, our clients start to believe in the possibilities. It might take time, but our successes this year prove that we can help and make a difference for each woman who reaches out.
To everyone in our Sophia Way community, thank you. We could not do what we do without your support and encouragement. Happy New Year!
– Gretchen Phillips-Bond, Assistant Day Center Manager