17 Sep

Volunteer for Our Holiday Initiative

Summer is giving way to fall, but here at The Sophia Way, it is time to start gearing up for our winter holiday festivities! We invite all of you to be a part of making this time of year more joyful for the women in our programs.

What can you do?

Consider providing a home-cooked holiday meal at one of our shelters or day center. It's never too early to sign up, especially if you have a specific date in mind. We are in need of meals all year round, so if not for the holidays, consider giving this gift any time!

Click here for more information on donating meals and to sign up.

We would also love to schedule a group to clean and decorate our shelter for the season. We are also happy to schedule special group projects (with limited availability) throughout the year.

Click here or email volunteer@sophiaway.org for more information or to schedule your group project.

Last and not the least, we are getting started on our annual Holiday Gift Initiative, and we cannot do it without YOU! If you are interested in helping to provide the gifts that each of our women receives in December, please email our new Holiday Initiative Coordinator, Banu Lakshmi, at banu.l@sophiaway.org.

Look out for more details as the holidays grow closer! And, thank you for making the winter holidays such a special time at The Sophia Way!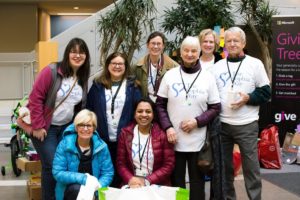 Our team and volunteers at last year's holiday initiative.