20 Aug

Volunteer Spotlight – Erin

I grew up in Bellevue, having moved here when I was 12 years old. I just finished an 8-week internship with The Sophia Way, on my way to earning a Bachelor degree in Human Services Management.

The first thing that impressed me about this organization is how dedicated each staff member is to the mission of the agency. The Sophia Way is a very young organization, but they are organized and focused on helping their clients regain their independence as quickly as possible.

I started out spending the majority of my time at the main office working with Tara Noyes, Operations Manager and Volunteer Coordinator, and Kavya Dharmarajan, Development and Communications Manager. Each has a mountain of responsibility and they take each task and accomplish it with dedication and professionalism. I am impressed with how much the staff accomplishes each week that provides their clients with the services and resources they need. I also had the privilege of working with several long-time volunteers. They are just as dedicated to the mission of the Sophia Way as the staff, and I know they are appreciated by everyone at the office.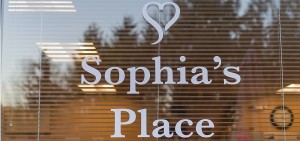 My responsibilities shifted to spending more time at the Day Center, which provided me the opportunity to not only see the shelter but also to spend time interacting with the women there. My first impressions of the Day Center and shelter were positive and remain that way. I am stunned to find out that the majority of the meals are all provided by volunteers; both individuals and organizations.  I was also pleased to find out that the majority of the toiletries are all donated.  There is even a small clothing bank which I had the privilege of assisting day center clients with finding appropriate clothing and helping to refine their sorting system when donations come in.
Overall, I am very impressed with the work The Sophia Way is doing and am thankful I had the opportunity to learn more.  I hope to remain involved with them and help to educate more people about this wonderful organization.
– Erin