30 Apr

Volunteer Spotlight: Madhura Kulkarni

What am I going to do with my time? How can I be productive? How can I use my Master's degree? These questions were running through my mind when I learned that I could not work as my visa did not allow it. (I had moved to Seattle after I'd got married.)

A little over a year ago, I started volunteering at The Sophia Way at the front desk. Soon I realized my strength was in doing basic development tasks like donation entries, contacting and thanking our donors, generating reports, helping with events, etc. I found my passion in Donor Development and Communication, and Fundraising.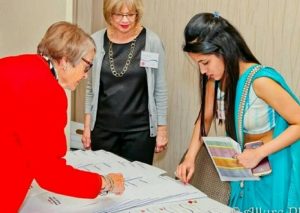 Today, I volunteer as the Development and Communications Coordinator. This experience has helped me shape my life and made me what I am today. What I love about volunteering is that I am able to give back to people in need. The satisfaction and gratitude makes me happy every single day.
It has been an amazing experience volunteering here. Exciting and very rewarding in terms of personal development. It is a fantastic way to put yourself out of your comfort zone and meet people you would otherwise have never met. For me personally, I am also building my resume – this makes me stand out.
I really encourage everybody to come and volunteer with The Sophia Way. The staff and all volunteers are very sweet and helpful. It feels like a family here! Volunteering taught me how to appreciate little things and be grateful for what we have.
Thank you, Sophia way, for helping my passion grow into a reality.
This inspiring article was written by Madhura Kulkarni, volunteer at The Sophia Way.