08 Sep

Volunteer Spotlight: Sue Fazio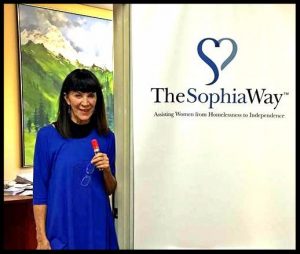 This coming January will be Sue's 4th year volunteering with The Sophia Way!
Here are just a few of the many things Sue does for us – she answers the phone at our office, keeps our office clean and organized, creates all of the thank you and appreciation notes, cards and letters for our donors, and is always there to assist with event planning and other special projects. She even came up with a system to track the number of calls for shelter requests.
Sue volunteers every Wednesday and Thursday from 9 to 5 at our office. She chose to volunteer at The Sophia Way because, "You never know when something like becoming homeless could happen to you. Working with the Sophia Way staff is incredible as they are total team and truly support each other with genuine kindness and concern for others." 
Originally from Whitefish Montana and now living in Bellevue, Sue's favorite activities are skiing, water skiing, swimming, aquarobics, calligraphy, cartooning, hiking and talking with the women who come to our office for Case Management with Natalie. She says that every one of these women is phenomenal and unique, and it is always a real treat to talk with them. "It makes my week!"
Thank you, Sue for your time, talent and treasure!