16 Aug

Our Volunteers, Our Backbone!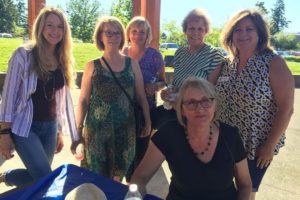 The summer sun blazed down, and in a corner of the beautiful and green Crossroads Park, volunteers from The Sophia Way gathered to celebrate their year of giving. It was an evening of good food and conversation with fellow volunteers, donors, and staff as they enjoyed a taco bar and snacks, and were gifted custom tumblers, and for a few rock star volunteers, personalized cards signed by the staff.
Our volunteers are the backbone of The Sophia Way. They give their time and their skills wholeheartedly because they believe in our mission of supporting women experiencing homelessness.
As Oscar Wilde said: "The smallest act of kindness is worth more than the grandest intention." Our volunteers embody this philosophy.
Thank you to Day Center volunteers, office volunteers, Companions, Support Network members, meal donors, community advocates, and all the people who support us.
Our annual Volunteer Appreciation Picnic is just a small way of thanking and appreciating your big heart! We truly could not do what we do without the generosity of your time and spirit!
Interested in joining our amazing volunteer team? We are looking for volunteers for the following:
Annual Benefit Luncheon – we are looking to recruit a great team of volunteers to help with pre-event preparations, the day of set up and tear down, and day of donation counting and logging. Contact Kavya at kavya@sophiaway.org for more info!
Holiday Gift Initiative! – (No, it's not too early to start thinking about it!) We would love one or two dedicated, organized, and outgoing volunteers to take the lead on this initiative. Contact volunteer@sophiaway.org for more info!
Volunteering at our Day Center
Helping with laundry for our Emergency Shelter
Helping to transport our clients to events and appointments
Check out all of our volunteering opportunities here!
Thank you for making The Sophia Way possible!