08 Feb

Volunteer Voices: Nadine Miyahara

Nadine Miyahara, a long-time supporter of The Sophia Way started volunteering at our office last week.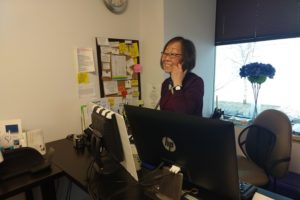 Why do I volunteer for The Sophia Way?
I started supporting The Sophia Way when they opened the shelter at Bellevue First Congregational Church in 2008. Since then, together with support from my charity group – The Ginkgo Foundation, we have prepared meals, donated time, and other resources.
I've been a regular guest at the fundraiser luncheon and am always moved by the stories I hear from the women who have found shelter and housing with the help of The Sophia Way. I also appreciate the growing number of people who attend the luncheon and support the awesome work you do.
I hear about the needs of the ever-growing homeless community and I thought to myself, "There MUST be something I can do on a more regular basis." So, I decided to volunteer my time at the office. Today is my first day in the office, and I have already learned so much. There is much more to know, and I look forward to all of it. I want to develop a better understanding of how the awesome The Sophia Way team works together to serve and support the needs of homeless women. And I want to become an integral part of this team.
Thanks for the opportunity to be a part of The Sophia Way!
– Nadine Miyahara
If you would like to volunteer for us, please click here to read about the opportunities and fill the paperwork