24 Sep

We all need shelter from the storms of life

Six months. 168 days.

On a Tuesday, March 17, as the coronavirus hit, we started operating our shelters 24/7. Since then we've been working tirelessly to ride out the storms that keep on coming – the pandemic, the protests against inequities, smoke from the fires… all the while keeping the women we serve safe, strong, and supported.

We have kept going…
supported by a community that stands by our side every step of the way
inspired by women who display enormous strength and resilience in the face of overwhelming odds
grateful to our staff who relentlessly guide and support women on their journey to a home

It has been challenging, but rewarding opening Helen's Place, our new emergency shelter in Kirkland.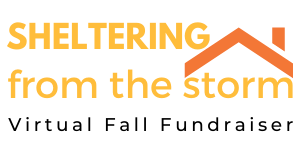 And, on September 15, we held our first virtual fundraiser Sheltering from the Storm. Technical difficulties aside (who hasn't experienced issues during the pandemic) we were touched by a community that was empathetic and inspired to give!
We want to take thank all who gave their time and talent to the success of the event, and give them the standing ovation they so richly deserve!

Graham Crow, suave emcee and gracious host, for handling the storm of the crash of our website with unparalleled grace and poise.
Janice Zahn for her investment in new beginnings for women living without a home.
Swen Nater for touching our hearts through his family's story and inspiring us with rebounding.
Janis Hyne, for her smile that conveys her warm spirit, and her unwavering courage to find her place to call home.
The Sophia Way Board & Staff for their constant support. And, Sairah Siddique, for bringing together an inspiring and engaging program in just two months!
To our Sponsors, Hosts with a Heart, Sophia's Society members, and Grace of Giving Award contributors, we are deeply grateful for your support that allowed us to reach the goal of $250,000! We could not have done it without you!
And, if you would like to be inspired again, watch the video clips from the program.
As one donor said, "I cried tears of joy!"  

Watch Karina O'Malley, a passionate supporter of The Sophia Way, receive the inaugural Grace of Giving Award, and hear the community appreciate her.