04 Apr

Welcome, Alisa Chatinsky

We are delighted to welcome Alisa Chatinsky, our Interim Executive Director. Alisa has spent 25+ years helping nonprofits identify their greatest needs and organizational goals, and helping them attain their next level of growth. We look forward to her leadership and vision as we continue to expand our community impact and support the growing number of women we are serving.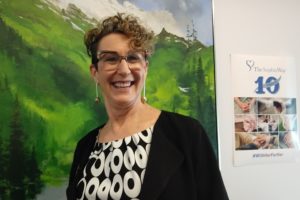 WOW! Wow is all I can say about how impressed I am with The Sophia Way.
I am honored to take the reins from Angela Murray, who did an outstanding job leading the organization through a time of tremendous growth. In the last few years, The Sophia Way has experienced an evolution of its programs, staff, board, and management. I am flattered that the board of directors chose me to help the organization in its next stage of growth. Over the next six months, I hope to meet with many of you to learn why you are a staunch supporter of our organization committed to helping women end their homelessness.
I recently spent the past 18 months working with Arizona's largest and oldest shelter. Central Arizona Shelter Services (CASS) houses 450 men and women 365 days a year. Just as The Sophia Way, CASS' real success is helping individuals access the services to prepare them for a thoughtful transition to permanent housing. During my time with CASS, I learned the importance of having a staff committed to our clients' success, an engaged board of directors and the financial resources necessary to make a significant impact to end homelessness.
We have a lot of ambitious work ahead to prepare for a successful transition of The Sophia Way's next permanent executive director. I hope you will continue to stand #WithHerForHer in our work to end homelessness in east King County.
With gratitude,
Alisa
P.S. Please feel free to reach out, get involved, offer advice, make a gift. I'd love to meet with you to learn more about your commitment to women experiencing homelessness in our community.