03 Jul

Why Sue loves making a meal!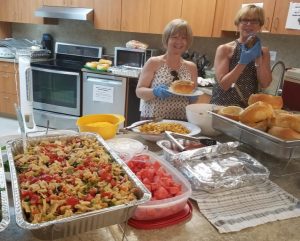 I discovered The Sophia Way while searching online for volunteer opportunities. When I went to the volunteer orientation I was truly impressed with the organization.
It wasn't long before a staff member asked me if I had met another volunteer…Robin. She thought we might have a lot in common. As luck would have it, I met Robin the following Sunday when I was scheduled to serve lunch.
Robin and I found ourselves at great ease with each other and discovered we have a shared passion for the clients and staff at the Day Center. We now collaborate on menus and share the cost and preparation of meals….a win-win for us and the clients at the Day Center.
I am grateful, every day, for the opportunity to serve this special "family" of women at the Day Center and cherish the friendships with people like Robin made along the way.
—Sue Ford, Volunteer and a Meal Donor