06 Jun

Without a Home

Our dream of a 24/7/365 shelter is around the corner – The Sophia Way's new permanent shelter and day center recently broke ground ! Until we open in the summer of 2020 we will continue to do our best to provide our guests shelter and support as many days as possible. For years, we have relied the goodness of our community of faith, to house our emergency shelter, moving from church to church – typically from October 15 to May 15. This year, we made a commitment to stay open as many months as possible – thanks to the support from Symetra and individuals just like you.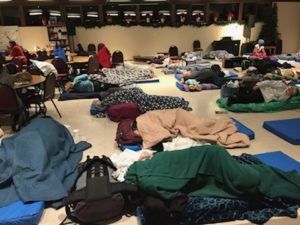 Currently, our emergency shelter is homeless. Our most recent stay at Lakeside Christian Church was extended for more than a month, but we are unable to stay through the summer, forcing us to close the shelter until we find a new home. We have reached out to funders, partners, donors, friends and are asking you, "Do you know of a temporary home for The Sophia Way Emergency Shelter?"
Here's what we need:
Approximately 2,500 square feet with utilities – if restrooms are an issue, we are able to provide porta-potties
On/near a bus line on the Eastside (ideally Bellevue or Kirkland)
Handicap accessible if possible
Available as soon as possible with the hopes that we could stay in one place through summer of 2020 when we move into permanent shelter or until October 15, 2019
If you or someone you know has property that would meet our needs, please contact Cynthia Brown, Emergency Services Director, cynthia@sophiaway.org.
With gratitude,
Alisa Chatinsky
Interim Executive Director