22 Dec

You Made Holidays Happy!

W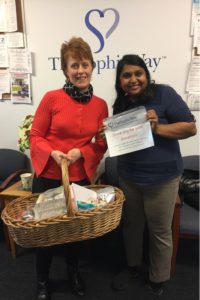 e are so grateful to the many individuals and organizations who gave from their heart and spread good cheer among the women in our programs. Your gifts have made the holidays a special time for them.
Our amazing volunteers and staff sorted through hundreds of bags and boxes, and created a gift bag for more than 200 women,  filled with beautiful things. Their smile, as each woman received her gift, delivered by our wonderful "elves",  is our joy that we share with you, our generous community!
"Thank you to all our donors. You've made a cold, unhappy Christmas into one I'll never forget. The gifts and well wishes have made this of the best holiday seasons I've ever had. Thank you to The Sophia Way for everything they've done for me." ~ Kerry Wolf
Special thanks to our holiday coordinators, Banu and Carol for leading this initiative. Here is what they had to say:
"It has been a wonderful four months with the Holiday Initiative. I consider myself to be privileged to witness the joy of giving by the super amazing generous donors. The concern they shared for the women was reflected in form of the gifts they had carefully hand made and handpicked just for them. It was overwhelming when the women at the center personally had mentioned and sent hand written notes when the gifts were delivered. It was a blessing to have these amazing volunteers who have gone above and beyond to bring joy to the women. I would love to be part of this year after year and be thankful for this opportunity that was given to me to experience it." ~ Banulakshmi Hariganesan
"I was struck by the level of joyfulness throughout this experience, especially in the final two weeks. While the donors were certainly very generous, they also seemed genuinely joyful about donating when they dropped off their gifts. And while the women receiving all these wonderful gifts were very grateful, they also seemed very joyful judging from the responses I have heard. And finally, the volunteers who helped sort and pack, while they worked very hard, were also very happy to be working on this great effort and exuded joyfulness themselves. The true joy of both giving and receiving was definitely in evidence!" ~ Carol Thompson
Glimpses of Holiday Gifting@The Sophia Way
Thank you, Donors
o Aldergate UMC (Jean Harris)
o Alison Dildine
o Assistance League of the Eastside
o Babette Bechtold
o Banulakshmi Hariganesan
o Bellevue First Congregational Church
o Beverley Scruton
o Bhageerathi Venkatesh
o Bonnie Curran
o Capheid Bothell Gift drive (Rick Leuzzi)
o Carl Jenkins
o Cathy Relyea
o Chinook Middle School
o Cindy Cross
o City of Bellevue (Terri Strom)
o Civica Commons (Gueneta)
o Congregational Church of Mercer Island (Elta Loy)
o Cross of Christ Church Lutheran (Deborah Circle)
o Dix Fulton
o Eastshore Unitarian Church (JoAnne Way)
o Eastside Quilters (Christine Boldiszar)
o Elena Hart LLC
o Emily & Darren Apfel
o Geo Engineers
o Ginkgo Foundation
o Hsiao Youg 'Main' Chong
o Jane Beckerd
o Jane Heibert
o Joan Jackson
o Julianne, in loving memory of Judy
o Julie Kinney
o Laurie Basile
o Lillian Agon
o Lori Steiner (WSE Credit Union)
o Nadine Miyahara
o Newport Presbyterian Church
o Nidhi Mehtha
o Pacific Regents (Paul and Arlene)
o Palie Cantu (Forest Ridge School of the Sacred Heart)
o Pat King
o PEO Chapter Mercer Island
o QFC (Newcastle)
o Randi Holland
o Rosalie Gann (The Gardens at Town Square)
o Safeway (Newcastle)
o Saradha Sukhavanam
o Sharon Roos
o Shirley Hobson
o Sigma Chapter AAK (AudreyThrelkeld)
o Saint Andrews Lutheran Church (JoAnn Baker)
o St. Madeline Sophie (Sharon & Mike Glenn)
o St.Louis Parish
o Stacy Masters (Traders of Hope)
o Susan Harvey
o Suzanne Sievert
o Suzie Nelson
o Trader Joes (Bellevue)
o Wayward Collective
o Willowsward of Church of Jesus Christ of Latter Day Saints
o Women of Mercer Island
o Yelp Seattle Eastside
Thank you, Volunteers
o Alison Dildine
o Anne Arakaki-Lock
o Banulakshmi Hariganesan
o Bonnie Curran
o Carol Thompson
o Janet Olin
o Maria
o Marlyn Thorpe
o Megha Murali
o Nadine Miyahara
o Pat King
o Pat Landy
o Sharon Roos
o Sue Fazio
o "Elves" from Sophie's Madeline Church – Mike GLenn, Jon Danielson, John Rastetter, Mike Kidd, Ken Ramsey
Our endeavor has been to thank all our donors and volunteers. If we have missed your name, please let us know at info@sophiaway.org