03 Feb

Looking Ahead

We continue to have hope for all good things this year. Although the pandemic is far from over, and there is still unrest in our country, we are optimistic – there seems to be renewed commitment at many levels to help everyone in our nation thrive.

When I recently visited Helen's Place, I saw women safely interacting with one another in a stable environment, cared for by compassionate staff. It continues to give me a deep appreciation for our local governments, foundations, businesses, and individuals who made our new 24/7 shelter a reality. I can't imagine women not having the safety and stability of Helen's Place during this tumultuous time.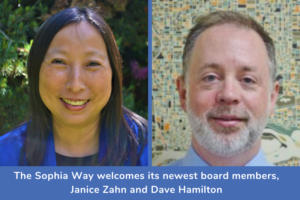 We are pleased to welcome two champions to our board of directors. Bellevue City Council member Janice Zahn with her experience and thoughtful approach brings great value to The Sophia Way. Dave Hamilton, CEO of Delivery Express brings a wealth of business acumen in his role.
A few months ago, I shared that we were completing a strategic framework to guide The Sophia Way in the coming years. I am pleased to tell you, we are nearly ready to share our plan that includes a refreshed mission statement and values, along with a new vision statement.
We have much to look forward to in the year. Please continue to stay safe and stay healthy.
Warm regards,
Alisa Chatinsky
Executive Director