07 Aug

Strong Roots
The Support Network, a might community group, had its first meeting on September 29, 2010. Members of faith communities, civic groups, and nonprofit organizations, came together to support The Sophia Way and advocate to end homelessness for women.
The article, written in July 2019, highlights the work and members of the Support Network
What happens when a group of like-hearted people gets together? A community thrives!
The Support Network is a small part of a very very large community. Its roots go deep down into the foundation of The Sophia Way. From humble beginnings, this group has grown to embrace innumerable organizations and groups that have given unstintingly to support women experiencing homelessness.
The Sophia Way opened its shelter in December 2008 at Bellevue First Congregational Church. The shelter operated there five nights a week, from Sunday to Thursday. On Friday and Saturday night, the shelter was hosted for two months by different "weekend host churches". This continued for about two years until Bellevue First Congregational Church gave The Sophia Way the room for all seven nights of the week.
While the shelter was no longer hosted by the different churches, the relationship with them had become so strong that it transformed into the Support Network.
"The churches had a connection with The Sophia Way through hosting the shelter. We developed a good relationship with the members who were our lead contact and helped us with everything from signing contracts to ensuring we had volunteers and meals every night. They would come and smooth things over when we had issues," shares Karina O'Malley, The Sophia Way Board Member and Convener of the Support Network.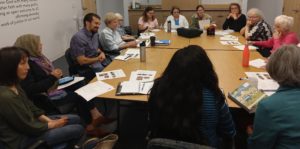 When the Support Network started, they didn't have any defined responsibilities as a group. They met to share information, and discuss possibilities and opportunities. 'This is how you can get involved' or 'this is what we need.' The members would take it back to their congregation, which would result in whatever called to them – like doing a donation drive or filling a table at luncheon, etc.
"We are connected to a group of people who are connected to a hundred more people," says Karina. "Some of the members have been coming for almost ten years, every month, to get the news on the ground. And, in our discussions we would get the most interesting ideas. For instance, at one meeting a staff member shared that she had a client who was 2XL size and didn't have suitable clothes to wear to work. Someone in the room said: 'I know that at Weightwatchers they give up their clothes when they shrink down sizes and we could tap into that.' Now, that is something we ordinarily would never have thought of. It's so inspiring when these intimate connections are made."
Another wonderful idea was the "Welcome Her Home" baskets. In early 2017, the group started collecting items that would be useful to women who were moving into their own apartment and Sharon Roos (she and her husband, Jack, are long-time Sophia supporters) would put together the items in a basket. Since then, every month, one (or more) 'hospitality basket' is given to The Sophia Way for women who exit homelessness.
The group also has a BBQ dinner at the shelter every year in the summer, and participates in the community brunch and fashion events – times that bring joy to the women we serve at our shelter.
All of us at The Sophia Way are deeply appreciative of the organizations and women who are part of the Support Network. In particular we would like to give a shout out to Gail D'Alessio, Merrilee Kipfer, JoAnne Way, Nadine Benson, Leslie Schofield. We also asked Dorinda Otto and Jean Harris to share their journey.
Related article: Sharon Roos, a much-loved supporter of The Sophia Way, shares her story.
Thank you to the many organizations that have been steadfast supporters of The Sophia Way and the women we serve.
Aldersgate United Methodist Church
Assistance League of the Eastside
Congregational Church of Mercer Island
Cross of Christ Lutheran Church
East Shore Unitarian Church
Eastside Community Aid Thrift Shop
First Presbyterian Church of Bellevue
First United Methodist Church of Bellevue
Grace Lutheran Church
Holy Family Parish
Kirkland Congregational UCC
Lake Washington United Methodist Church
Lighthouse Christian Church
MAPS-MCRC
Newport Presbyterian
Overlake Park Presbyterian
Pilgrim Lutheran
Redmond United Methodist Church
St Andrew's Lutheran Church
St John's Episcopal
St Louise Parish
St Luke's Lutheran Church
St Peter's United Methodist Church
TurkCha (Turkish Women Charity and Aid Organization)
---
The Support Network has members from faith communities, civic groups, and nonprofit organizations. We invite you to join us, learn about the issue of homelessness and the women who are experiencing it, and share that with your network. Pick a person to represent your community or group and come to our monthly meetings (every fourth Tuesday between Noon and 1 PM), and get connected to a larger community. Email volunteer@sophiaway.org