14 Dec

Together, We Gave Roslyn Two Things to Celebrate!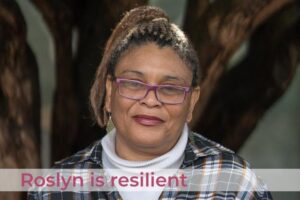 Roslyn is the kind of person who is always there for others – who lifts you up with a smile and just the right words. In fact, she gave up her Seattle apartment a couple years ago to care for her sick mom in Texas. But when her mom died, Roslyn felt so alone. Back in Seattle, she had no one to turn to and nowhere to live for more than a year. That is, until The Sophia Way community rallied around her!
We first met Roslyn in March 2018, when she was still grieving the loss of her mom. She stayed briefly at Holly House, but that wasn't a good fit for her. When she left, her life unraveled further and she sought comfort in drugs.
By December that year, Roslyn was ready to make a change. Thanks to a generous community, Roslyn got counseling and we helped her obtain a new apartment! Now, she has a caring community to turn to when things get difficult. That includes her case manager who encourages Roslyn and keeps her moving toward her goals – even in a year like 2020.
And as the holidays near, Roslyn will celebrate two huge milestones. Two years in stable housing and one year drug free!