14 Dec

Together, We Gave Roslyn Two Things to Celebrate!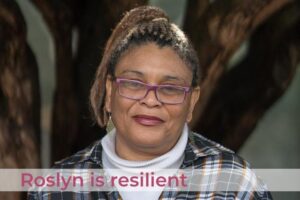 Roslyn is the kind of person who is always there for others – who lifts you up with a smile and just the right words. In fact, she gave up her Seattle apartment a couple years ago to care for her sick mom in Texas. But when her mom died, Roslyn felt so alone. Back in Seattle, she had no one to turn to and nowhere to live for more than a year. That is, until you helped The Sophia Way community rally around her!
We first met Roslyn in March 2018, when she was still grieving the loss of her mom. She stayed briefly at Holly House, but that wasn't a good fit for her. When she left, her life unraveled further and she sought comfort in drugs.
By December that year, Roslyn was ready to make a change. Thanks to generous folks like you, Roslyn got counseling and we helped her obtain a new apartment! Now, she has a caring community to turn to when things get difficult. That includes her case manager who encourages Roslyn and keeps her moving toward her goals – even in a year like 2020.
And as the holidays near, Roslyn will celebrate two huge milestones. Two years in stable housing and one year drug free! Can I count on you to help more resilient women like Roslyn?
When 2020 began, I had no idea we'd be running two shelters – 24 hours a day, 7 days a week. But the local women we serve need a safe place to go in this pandemic. With social distancing and few public places open, their options continue to be quite limited…
And with a harsh winter on the way, I know even more women will turn to The Sophia Way for help. That's why we may need to find additional housing, such as hotel rooms or an overflow emergency shelter, for them soon.
Like you, I don't want to turn away any woman facing homelessness – just because our current beds are full. Will you please help with a critical gift today?
Just $63 gives a woman like Roslyn shelter and care for one night. That's more than a warm bed, a shower, and healthy meals. Your gift also offers her access to counseling and a case manager who will help her move her life forward.
To help even more, a group of our faithful supporters has agreed to match your donation – dollar for dollar – up to $15,000. So $63 becomes $126 – that's two nights of warmth and safety for a woman. And $220 becomes $440 – enough for a whole week of healing and rest!
The women we serve come from all walks of life. Many are seniors who have become homeless for the first time. Others have lived in poverty and survived domestic abuse. Nearly half have endured bigotry because of their race or disability. But all of them share a remarkable strength and the capacity for real change. They just need a loving community – like ours – to lift them up when they need it most.
Will you make a tax-deductible gift to The Sophia Way today and DOUBLE your impact? Together, I know we can end homelessness for women in King County. And won't that be a cause for celebration!
Wishing you a safe and joyful holiday season,
Alisa Chatinsky
Executive Director