09 Sep

Reaching Out

Jess Bermudes writes about his work as the Vehicle Outreach and Housing Navigation Specialist for The Sophia Way.

Working with populations living in their vehicles in East King County (Redmond, Bellevue, Issaquah, and Kirkland), I have had a wide range of experiences. Like any outreach work, meeting people where they are at and establishing positive rapport in the first few minutes is vital.

Every week, I meet new people who park their home at churches and grocery store parking lots, college campuses, and neighborhood spaces. I help them connect to services and resources, and if they agree, help them work towards housing.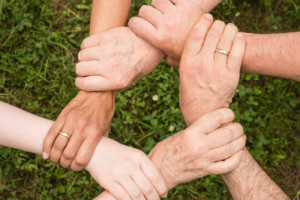 In the short time that I have been doing this work, I have met some inspirational and amazing people. People who painted a different picture from what we expect to see as someone experiencing homelessness. I met people who worked at Boeing as engineers, Microsoft as programmers; who were county and city workers, caretakers, athletes, EMS workers, and more. They had successful careers and done amazing work in their lives.
A woman that I worked with to find housing worked for the city doing administrative work for over 20 years, but had to quit her job to take care of her mother. Another woman was a firefighter for eight years and then traveled around the country to do volunteer firefighting before being injured and finding herself out of work. Another woman was panhandling for 11 years in Oregon and Washington and is currently writing a book about her life.
All these women and many more need help. I connect them to services and resources, and of course, housing. So far, I have been able to help house 12 people with the hopes of housing three more by the end of September.
An important aspect of my work is to build relationships with various nonprofits and community providers such as the police and parks department, emergency medical services, etc. They refer people to me who may otherwise not know about our services, which makes my ability to reach people that much more vast and efficient. Also, knowledge about these services helps me support women with what they need. For instance, helping people get jobs through various employment services, getting them discounted YMCA memberships, connecting domestic violence survivors with appropriate resources to assure their safety. Currently I am working with some students experiencing homelessness in Kirkland who never knew these services were available.
With the resource referrals and service connections, the biggest thing that helps is simply listening; sitting down to talk to them as another human being. The world of outreach is always changing, and the diversity of people I meet is truly inspiring.
Meeting someone for the first time and being able to create a relationship that allows them to see a future for themselves is what makes this work worthwhile.
~ Jess Bermudes